Fire
Fires are a serious and often deadly threat to people and property, and they can strike at any time, with little or no warning. In our state, fires cause thousands of deaths each year, leaving many families devastated and communities struggling to recover. However, the good news is that many of these casualties could be prevented through proper planning and appropriate action.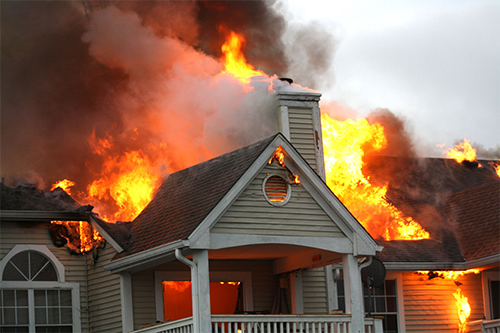 Planning
It is very important to develop a plan of what do in the case of fire. Keep in mind that most fire-related deaths are the result of asphyxiation, so you should view smoke and fumes with as much apprehension as the fire itself. Follow these plans when forming your Fire Safety Plan:
Keep cloth and paper away from appliances and power outlets.
Use caution when cooking with hot oil.
Keep a fire extinguisher handy in areas of greatest risk (most fires start in the kitchen).
Never leave lit candles unattended.
Ensure cigarettes are stubbed out and disposed of carefully.
Never smoke in bed.
Keep matches and lighters away from children.
Install fire alarms in your home or office. Test fire alarms on a regular basis to make sure they are functioning properly.
Make at least two escape routes from your home or office. Draw a floor plan and post it in regular view.
Buy escape ladders for upper level floors and keep near windows for times of emergency.
Locks and bars must be easily opened from the inside in order to provide escape routes.
Establish a safe place to meet after escaping a fire.
Conduct fire drills at least twice a year.
Preparedness
In addition to carrying out regular fire drills, it's important that you realize these general rules in regards to fire safety.
Stay low to the floor when evacuating in order to avoid asphyxiation.
Get out first, and then use a neighbor's phone to call the Fire Department.
Do not try to put out the fire yourself. Many injuries and deaths occur when people try and extinguish a fire after they have escaped.
Response
At the first signs of fire, do not hesitate even for a moment to evacuate everyone from the area. Keep in mind, fires often spread very quickly and can block potential exit routes in a matter of seconds. You and your family should follow your evacuation plan and do it immediately.
Exit the building immediately.
Crawl low if there is smoke.
Use a wet cloth, if possible, to cover your nose and mouth.
Use the back of your hand to feel the upper, lower, and middle parts of closed doors.
If the door is not hot, brace yourself against it and open slowly.
If the door is hot, do not open it. Look for another way out.
Do not use elevators.
If you catch fire, do not run. Stop-drop-and-roll to put out the fire.
If you are at home, go to a previously designated meeting place.
Account for your family members and carefully supervise small children.
Never go back into a burning building.