Mitigation
Mitigation is the effort to reduce loss of life and property by lessening the impact of disasters. Mitigation is taking action now—before the next disaster—to reduce human and financial consequences later (analyzing risk, reducing risk, insuring against risk). Effective mitigation requires that we all understand local risks, address the hard choices and invest in long-term community well-being. Without mitigation actions, we jeopardize our safety, financial security and self-reliance.
Disasters can happen at anytime and anyplace; their human and financial consequences are hard to predict.
Flood Index | Heat Index | Thunderstorm Index

Planning
Mitigation plans provide a structured and systematic approach to identify risks and vulnerabilities and to develop and prioritize actions to reduce or eliminate risks thereby diminishing future losses resulting from the identified hazards.

The process for developing a comprehensive all-hazard mitigation plan involves several steps. These steps include:
Building Support for Mitigation Planning: This step involves identifying interested community members, available resources, and technical expertise and then organizing these elements into an effective planning team.
Understanding Your Risks: This step involves identifying and characterizing potential consequences of hazards and their impact to communities.
Identifying Mitigation Actions and Implementing Strategies: This step involves establishing priorities based on your community's understanding of their risk and developing long-term strategies and specific actions to minimize or avoid undesired consequences associated with the hazards.
Implementing the Hazard Mitigation Plan: This step involves a variety of on-going efforts which may include public education, implementation of mitigation projects, and changes in the day-to-day operations of government to incorporate their understanding of the risks associated with hazards can have undesired consequences within the community.
Types of Local Events that may require mitigation:
Drought, Earthquake, Extreme temperatures, Flood, Hail, Landslide, Severe wind, Severe winter weather, Tornado, Wildfire, Thunderstorms, etc…

For Home Owners:
Carbon Dioxide and Radon Detectors
Fire/smoke detectors
Build on higher ground
If you have a sump pump buy one that has a battery operated back up in case the power goes out.
Flood Insurance
The National Flood Insurance Program (NFIP) goal is to reduce the impact of flooding on private and public structures by providing affordable insurance for property owners. The program encourages communities to adopt and enforce floodplain management regulations, which will mitigate the effects of flooding on new and improved structures.
The NFIP is helping communities reduce the socio-economic impact of disasters by promoting the purchase and retention of both Risk Insurance and National Flood Insurance.
The National Flood Insurance Program provides insurance to help reduce the socio-economic impact of floods.
In the event of High winds:
Remove large trees and foliage near your house. This can be extremely dangerous, for both you and your house, and therefore is a job for a skilled contractor.
The straps and ground anchors used for manufactured homes also can be used to anchor outbuildings, especially small garden sheds, which are usually not placed on a permanent foundation.
You can secure outdoor furniture and barbecue grills by bolting them to decks or patios or by attaching them to ground anchors with cables or chains.
You can secure trash cans with cables or chains attached to ground anchors or to wood posts firmly embedded in the ground.
Trash can lids should be tied to cans with cables or chains.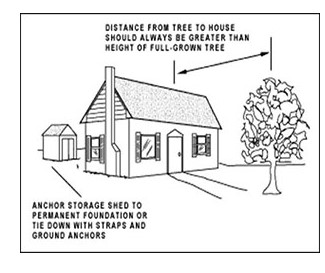 Mitigation Best Practices Portfolio
FEMA's Best Practices Portfolio is a collection of ideas for activities, projects and potential funding sources that can help reduce or prevent the impacts of disasters. By sharing your first-hand experience of damaged areas, you help spread the word of how important, effective and life-saving mitigation can be. Stories that focus on successful mitigation projects and practices implemented after a disaster may encourage communities and individuals to implement new mitigation efforts to prevent future damages.